Surgery & Transplantation
Head
Prof. Rolf Graf, PhD
Head of Research

Prof. Pierre-A.
Clavien, MD, PhD
Director of Surgery
and Transplantation
Organization
Surgeon scientists and basic scientists within the Department of Visceral & Transplant Surgery work together towards clinically relevant translational studies. The research teams are focused on multiple aspects of surgical research, such as designing novel surgical techniques (relevant to transplantation or liver regeneration), understanding the pathogenesis of pancreatitis, applying bariatric surgery to treat metabolic disorders, and developing strategies to enable the surgical treatment of visceral malignancies. Likewise, the identification of molecular mechanisms associated with above translational studies is explored using animal models.
Hepatobiliary and Transplantation
Multiple animal (mouse and rat) models have been developed to understand and explore clinically relevant surgical procedures, including arterialized orthotopic liver transplantation, transplantation of critically small grafts, normal liver regeneration (68%-hepatectomy), or failed (86%-, 90%-hepatectomy) and accelerated (ALPPS surgery) liver regeneration. Based on these, we identified the first molecular mechanism (paracrine JNK1-IHH signaling between stellate cells and hepatocytes) underlying the acceleration of regeneration through ALPPS.

Parakrine JNK1-IHH signaling from stellate cells underlies the accelerated
hepatocyte proliferation following ALPPS surgery
Furthermore, we discovered that lipids are the prime fuel of the regenerating liver and that the promotion of their catabolism can protect from liver failure. Combining our surgical models with dietary induction of fatty liver disease, we were able to show that fish oil is efficient in normalizing the metabolic state of fatty liver while improving its stress tolerance and its regenerative capacity.

Peripheral lipids are oxidized in the liver to fuel hypertrophic regeneration in
a PTEN-dependent way
In Progress
In parallel, we have designed syngeneic orthotopic mouse models of metastasizing colorectal cancer, of liver metastasis, and of liver cancer. In these models, we demonstrated that oxygenation through the novel molecule ITPP counteracts metastasis and enhances efficacy of chemotherapy. Following our landmark discovery of serotonin for liver regeneration, we now deciphered novel immunomodulatory properties of the neurotransmitter that may be exploited for cancer therapy. Importantly, the results from our basic researched animated the initiation of novel clinical & outcome studies.
Pancreas Research Laboratory
The pancreas laboratory has explored molecular events involved in the pathogenesis of pancreatitis. Through mouse models of chronic, acute and autoimmune pancreatitis, we uncovered the epigenetic regulation of pancreatitis, and could dissociate acute from chronic pancreatitis in terms of pathobiology. Moreover, assessing the sequence of pancreatic metaplastic changes associated with cancer progression, we identified pancreatic gastrokine secretion as a potential disease modulator. Finally, longstanding clinical and experimental projects have established pancreatic stone protein (PSP) as a reliable marker of sepsis in the clinic.
Gastrokine (GKN1 and GKN2) expression in human premalignant PanIN lesions
Bariatric Surgery Research
Bariatric, or metabolic, surgery - performed to reduce obesity - meanwhile is known to lead to rapid resolution of type 2 diabetes. How this occurs mechanistically is unanswered. The recently established laboratory of bariatric surgery has developed mouse models of gastric bypass to study molecular mechanisms responsible for changes in appetite, eating behavior, food preferences, and normalization of diabetic symptoms following metabolic surgery.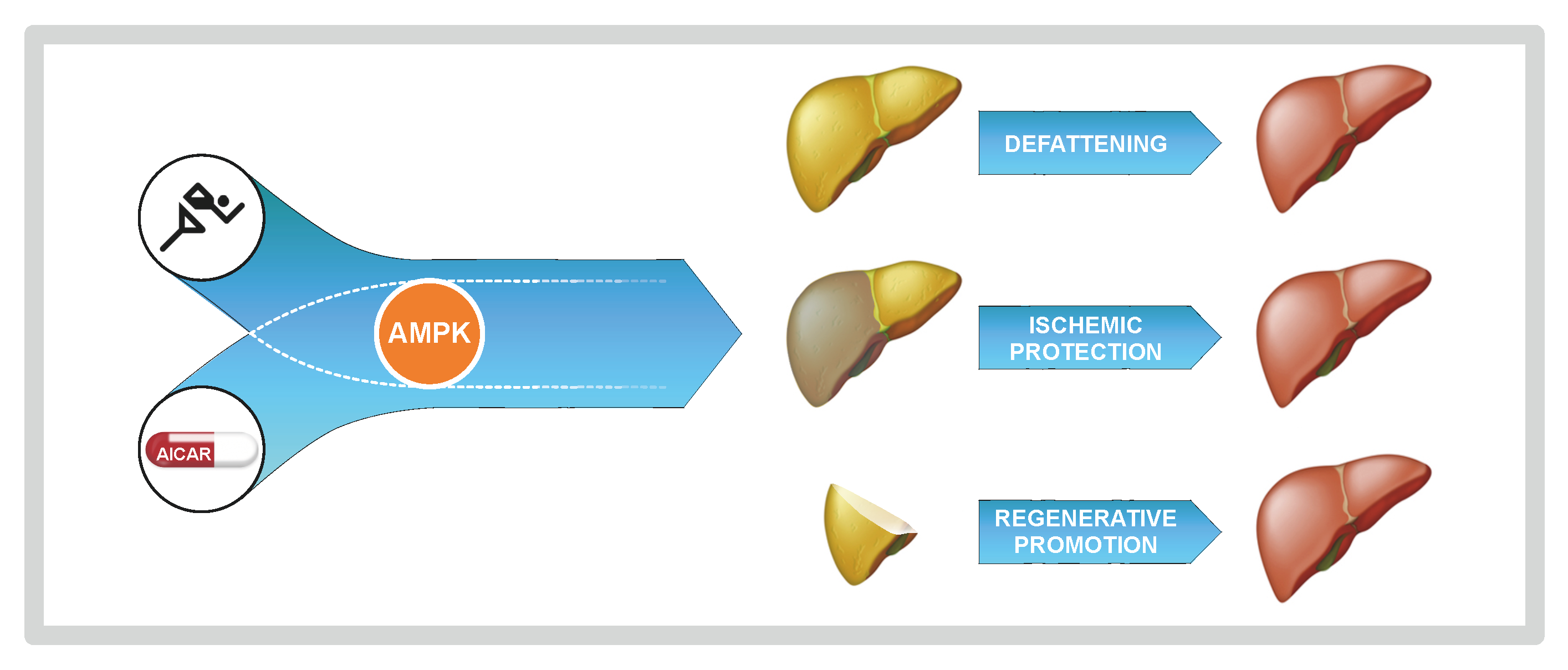 Akin to exercise, the AMP analog AICAR improves metabolic function, stress
tolerance and regenerative capacity of fatty liver
In recent times, the combination of cytoreductive surgery with hyperthermic intraperitoneal chemotherapy (HIPEC) has significantly enhanced survival of patients suffering from peritoneal carcinomatosis (PC). To understand the mechanisms behind HIPEC, a new research group was established. Using an original PC mouse model, we observed that HIPEC seems to lead to a better recognition of cancer cells by the immune system. These findings have stimulated a program for the study of HIPEC and cancer immunogenicity as to improve HIPEC efficacy.
Collaborations
Prof. Michelangelo Foti (University of Geneva)
Prof. Jean-Francois Dufour (University of Bern)
Prof. Gerald Schwank (ETH Zurich)
Prof. Sabine Werner (ETH Zurich)
Prof. Maries van den Broek (University of Zurich)
Prof. Jean-Marie Lehn (University of Strasbourg)
Prof. Gregory Gores (University of Minnesota Majo Clinics)
Prof. Scott Friedmann (New York University Mount Sinai School of Medicine)
PD Dr. Andreas Boss, Department of Radiology USZ
PD Dr. Deborah Stroka (University of Bern)
Prof. Dr. Mathias Heikenwälder, PhD, (TUM Munich)
Prof. Dr. Adrian Hehl, MD, (University of Zurich)
Prof. Dr. Achim Weber, MD, Department of Pathology USZ
Prof. Aurel Perren (Universität Bern)
Prof. Arnold von Eckardstein, Department of Clinical Chemistry USZ
Prof. Thorsten Hornemann, Department of Clinical Chemistry USZ
Prof. Martin Pruschy (University of Zurich)
Dr. Daniela Lenggenhager (University of Zurich)
Dr. Johannes vom Berg (University of Zurich)
Prof. Philipp Rudolf von Rohr (ETH Zurich)
PD Dr. Martin Hübner (CHUV, Lausanne)
Various clinical collaborations